Drive throughs were the most popular punishment of 2011 with 16 of the 21 drivers penalised receiving at least one. Hamilton and Maldonado were dealt four a piece of those.
Several reprimands were issued, four at the Spanish Grand Prix, for Button, Webber, Hamilton and Alguersuari. All for setting their best times in sector two whilst yellow flags were displayed. The others went to Petrov over his part in a collision with Schumacher. Paul DiResta missed Wellbridge during qualifying for his and Schumacher's collision with Perez resulted in his.
Joint third was time penalties and grid drops of which twelve in total were distributed. Only four stop and go penalties were given out to Schumacher, Maldonado, Kobayashi and Buemi. Sebastian received his only penalty for speeding in the Malaysian pit lane during the race. Micheal's collision with Koboyashi at the British grand Prix resulted in his and one of the many unfortunate incidents to plague the Japanese driver who also received one for the unsafe release of his car. Maldonado ignored blue flags at Abu Dhabi for his induction into the collective.
It seems the Italian Malaysian, Chinese, European, German, Japanese, Korean and Brazilian grand prix were the circuits the drivers couldn't resist speeding in with Senna, Schumacher, D'Ambrosio and Barrichello among those receiving fines for speeding in the pit lane. Senna was caught out twice and fined a total of €12,000. As was Force India's Adrian Sutil who was fined €18,400 in total.
The unsafe release of Kamui Koboayashi's Sauber at the Bristish Grand Prix saw them crowned as the constructors fined the highest amount in the season.
Maclaren joined them with their release of Jensen Button's podium lined car after a miscommunication in the normally efficient pit crew. Lotus were fined in Singapour after releasing Kovalainen's car into the path on Sebastian Vettel. Renault received a fine for not informing Senna of his position and subsequently causing contact with Perez. Toro Rosso were also fined in Japan for an unsafe release. Merecedes Petronas were handed out a fine after failing to present Nico Rosberg to the stewards in a timely manner.
Repeat offender Lewis Hamilton sits comfortably on top with nine offences in the 2011 season, over closest rival Pastor Maldonado who lags behind with six.
Hamilton picked up a post race time penalty at the Malaysian Grand Prix for more than change of direction to defend a position with Fernando Alonso who also incurred the same for a collision with Hamilton.
In Monacco for his collision with Massa he received a drive through and then a time penalty after wheel to wheel racing with Maldonado. Another drive through in Singapore as he and Massa again collide. Their cars would continue to dance in Japan and India. For the latter contact, Mass would find himself with a drive through.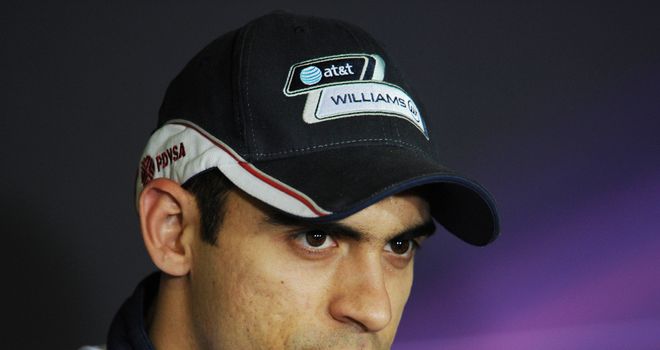 Williams Driver, Pastor Maldonado chalked up a total of four drive through penalties, a thirty second time penalty and a grid penalty of 5 places for his collision at the Belgian Grand Prix with Lewis. Three of his offences were undertaken at the Abu Dhabi grand prix.
In third sat Sergio Perez. His collisions with Sutil and Buemi both resulted in drive through penalties. Ignoring yellow flags at the Indian Grand Prix resulted in a three place grid drop for Sauber's Mexican driver. In Singapore he was on the receiving end of a collision with both Schumacher and Senna.
Fourth place Bruno Senna managed to amass his collection of penalities in only eight races. He received his first drive through from his debut race of 2011 in Belgium following a collision with Jaime Alguersuai. After an impressive qualifying position of seventh, he eventually finished in thirteenth. In Abu Dhabi it was ignoring blue flags which gained him another drive through. After starting ninth on the grid, ahead of team mate Petrov, a collision with Michael Schumacher resulted in his final drive through and a finish of seventeenth.
Mercedes Petronas driver Michael Schumacher shares fifth place with Maclaren's Jenson Button, Toro Rosso's Alguersuari and Virgin's Jerome D'Ambrosio who all have three misdemeanors each. D'Ambrosio was caught out at the Turkish Grand Prix when he ignored yellow flags to receive a five place grid penalty and a tyre change before the safety car returned to the pits gave him a penalty at the Canadian Grand Prix. Jaime caused a collision with Trulli at Singapore and received a drive through penalty for his troubles.
Occupying the sixth spot were Rubens Barrichello, Fernando Alonso, Mark Webber, rookie Paul DiResta, Kamui Kobayashi, Narain Kathikeyan and Vitaly Petrov. All finished 2011 season with two penalties a piece. Drive throughs were awarded to Rubens, Alonso, DiResta amd Kamui. Whilst Petrov's collision with Schumacher at the Korean Grand Prix saw him reprimanded and given a grid penalty of five places at the next event.
Adrian Sutil, Heikki Kovalainen, Felipe Massa, Timo Glock and Vitantonio Liuzzi were all given one penalty over the course of their season. All of which were drive throughs.
Though Nico Rosberg was given a warning for impeding Perez during Q2, he himself escaped penalty. Sebastian Vettel managed to avoid incident as did Trulli, rookie Daniel Ricciardo and Nick Heidfeld.
CStreet 20/02/12